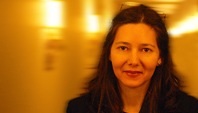 Dalit Katz is an Adjunct Assistant Professor in the Religion Department at Wesleyan University. As a native Israeli who specialized in studying languages and cultures in her undergraduate as well as graduate studies, teaching Hebrew was the natural choice when she came to the United States.
Dalit Katz teaches all levels of the Hebrew language from the very beginning to the advanced as well as courses in Israeli literature and culture.  She is also the coordinator for Israeli cultural events at Wesleyan University. The cultural programming which she organizes is in part for Hebrew students and in part for the entire Wesleyan Community.  Dalit Katz has designed an innovative curriculum where Israeli scholars' visits are an integral part of the Hebrew curriculum at all Hebrew levels.  Furthermore, some Hebrew courses are designed around such cultural events and visits. Among the cultural series that Dalit Katz has designed and organized are Contemporary Israeli Voices, a series which concentrates on literary and translation studies, Wesleyan Israeli Film Festival, which is offered every other year, and Israel in Shorts, a series of short films and TV shows.
Dalit Katz received her BA and MA from the Hebrew University at Jerusalem and spent a year, after completing her BA, as a student in an education exchange program between the Israeli government and the Belgium government at Liege University in Belgium. Prior to teaching at Wesleyan, Dalit Katz taught Hebrew at Colgate University and Syracuse University from 1995-2000.